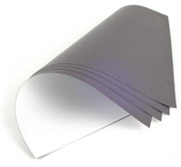 Speciality
MURALTAC-CANVAS
Embossed linen wall vinyl 6 mil.
Recommended for wall decoration, Advertising, etc...
PHYSICAL PROPERTIES
Caliper 6 mil
Finish Matte

FEATURES
Full 6 mil thick gives a wrinkle and bubble free installation
Micro-Sphere adhesive offers clean release
Fire resistant (ASTM E84 Class 1)

APPLICATIONS
Wall decoration and Advertising
Formats and Specifications
Compatible with Eco-Solvant inks.
Compatible with Solvant inks.
Compatible with UV-cured inks.
Compatible with Latex inks.
ICC Profiles List
Comments for MURALTAC-CANVAS
There are no comments yet.